Vietnamese cuisine in Ann Arbor
After living in one of the most diverse food cities in Michigan for ten years, I finally got around to trying Vietnamese cuisine. Even though there are many different Vietnamese restaurants in the Ann Arbor-Ypsilanti area such as Dalat Vietnamese, Pho House, Ginger Deli and K&D Bistro, I chose the highest rated restaurant on Zomato: VKitchen.
The menu was extensive including sections such as build your own Banh Mi, Pho, Vermicelli Platter and Speciality Dishes. Not only this, but there was also a whole vegetarian menu, with many dishes featuring delicately fried tofu. After long contemplation, I decided to try dishes that were both vegetarian and contained meat. I chose jalapeno and cilantro chicken and sriracha shrimp from the specialty dishes, and vegetarian spring rolls plus a banh mi with tofu from the vegetarian menu.
Each of these dishes were quite unique, however the sriracha shrimp were fairly similar to some of the other Asian dishes I have tried in restaurants such as Lan City Hand Pulled Noodles and Yee Siang Dumplings even though they are not Vietnamese restaurants. On the other hand, the jalapeno and cilantro chicken, tofu spring rolls and banh mi were very distinct and unlike everything I had had before. The jalapeno and cilantro chicken was a spicy stir fry of jalapeno, white chicken meat, bean sprouts and sauteed onion. The tofu spring rolls contained lettuce, cilantro, vermicelli rice noodles, carrot, cabbage and crispy tofu wrapped in rice paper. Last but not least, the banh mi was smothered with peanut sauce, and topped with cabbage, carrots, crispy tofu and jalapeno is a house baked baguette.
Each of the dishes I tried were mind-blowing and beyond my expectations. Plus, the service given was fast, fresh, and the price was reasonable, each meal costing approximately $10, and the appetizers costing approximately $5. Additionally, the owners of the restaurant were very kind and even threw in a free dessert that was new to their menu. This dessert had the consistency of milky jello, was made of soy and tasted like ginger-spiked flan. I highly recommend this restaurant for anyone who enjoys trying different cuisines, but if VKitchen is too far of a drive, there are many other local Vietnamese restaurants that are likely to fill your craving as well.
About the Writer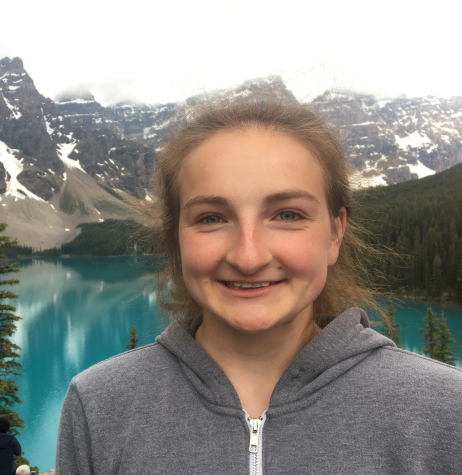 Kaitlyn Sabb, Feature Editor
Kaitlyn is a senior at Huron and is excited to start her second year on staff as the new Feature Editor. When she is not writing for The Emery, doing homework,...