Being a summer sport athlete under COVID-19 social distancing restrictions
With capacity restrictions and social distancing guidelines, this year's summer sport season was different for every athlete. For senior Annie Costello, a big change was made this year going from a 35 hours-per-week commitment to 10 hours-per-week. 
Costello's club diving team would typically practice twice daily throughout the summer in preparation for competitions around the state and country. This year, her team only held about three practices per week and maintained social distancing guidelines by practicing at an outdoor pool. As of Jan. 31, Costello verbally committed to dive for the University of Michigan and she is currently ranked at number one teenage diver in the state. 
"I think it's changed my ability a lot just because I'm not practicing as much," Costello said. "I feel like competing is a large part of getting better at your sport and it helps you handle pressure for the future."
Huron's Swim and Dive team has started their preseason, but has only done dryland practices because of the Michigan High School Athletic Association's regulations on fall sports. 
"People are a lot less connected now just because the teams are being split in half," Costello said. "You're not going to see all of the people you normally see on your team so it'll feel like two separate teams." 
While not many decisions have been made for sports outside of the fall season, softball captain Devynn Wilderman is preparing to have an altered senior season. Even though it wasn't as much competing as typical, Wilderman's club team competed in multiple tournaments around the state and Midwest. At tournaments, parents and fans are separated from the teams. Each tournament's specific rules on social distancing varied but all followed the general state-mandated guidelines.
"The tournaments are pretty bad and no one really follows anything," Wilderman said. "Personally, I have my hand sanitizer, I wear a mask and I try to keep my distance when I can."
Despite any potential risks, Wilderman keeps playing softball, not only because she hopes to play in college, but also because softball is familiar to her and an important part of her life. 
"I love just being out on the field and having that competitive mindset," Wilderman said. "It's really where I can get in the zone and absolutely go crazy."
Wilderman's parents made sure that she was able to continue playing softball while staying safe. 
"I was afraid no one was going to wear masks and follow the guidelines, and I was correct," Scott Wilderman said. "However, it seems that outdoor transmission is rare and everybody could get away with it." 
While both Costello and Wilderman have been able to practice in their sport's normal setting, sophomore Sandra Fu hasn't stepped on the ice with her team for the four months following school closures. 
"If there was a spring season I might have had the chance to improve," Fu said. "The empty months of April and May were really mentally challenging. I don't know if I can compare my skills to when I last played. I think I'll be able to make it up in a while." 
Fu and her team are now doing outdoor practices where she makes sure to wear a mask and follow social distancing protocols, even though it isn't completely enforced by her team. 
"I've been really cautious about going to those practices because it's a lot of people," Fu said. "Even with dry land practices, I'm the only one wearing a mask. We were discussing going to a tournament and I was really shocked. It's really weird to see different perspectives, and I felt like it was really privileged of them to laugh the pandemic off."
All three players came out of a summer season they couldn't have predicted, but it hasn't stopped them from improving their skills in any way they can. While they might not know what the future holds with games and practices, they will continue to do whatever they can for the sport they love. 
About the Writer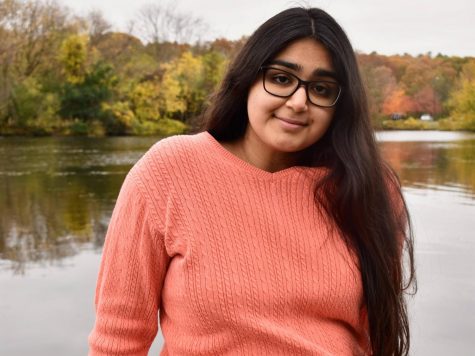 Mishal Charania, Managing Editor
Mishal Charania is currently in her senior year at Huron high school and works as the managing editor for the Huron Emery. She is also the editor-in-chief...