Three options presented for upcoming school year, no fully in-person classes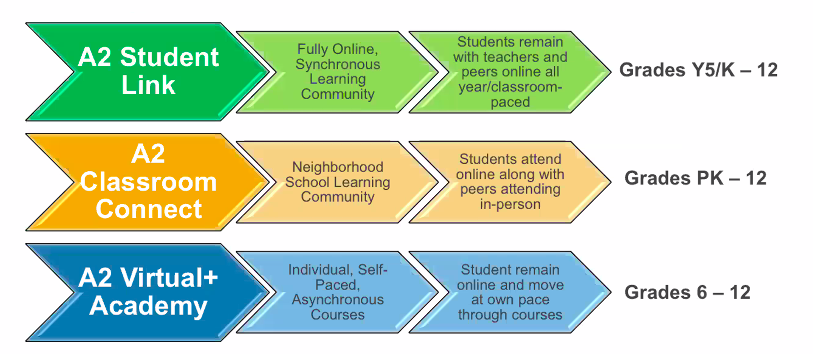 Tonight, July 22, the Ann Arbor Public Schools Board of Education discussed the framework for the 2020-2021 school year, which excludes full in-person learning for all students at the beginning of the school year. Plans were not conclusively voted on but board members indicated that the following will be the framework for the next academic year.
         Parents and students will have a choice of three options for the upcoming school year. These options are designed to offer families flexibility while preserving the highest level of safety for students and staff.
         A2 Classroom Connect option is for families looking to send students back to classrooms, when safe to do so. Classes will be through individual schools and offer a mixture of in-person and virtual lessons. Classroom instruction will be phased in in accordance to local COVID-19 statistics and state guidance. 
         A2 Student Link is a fully online learning community for families who do not wish to send their students to school for the entire 2020-2021 academic year. This option allows students to stay with a class and teacher for the entire year in a virtual environment.
         Both of the above options will have attendance monitored daily and include a block schedule where each class is attended twice a week for a long period, approximately 110 minutes. Within each block there are both synchronous (live instruction ex. Google hangout) and asynchronous (independent student work) periods. Additionally, the high school school day is slated to begin later, 8:30 a.m. to accommodate high schoolers' later sleep schedules.
         Families will also have the choice to enroll middle and high schoolers into full-day A2 Virtual+ Academy. This program, which has already been in place for several years, is asynchronous learning where students can work on their own schedules.
         Regardless of the option individual families choose, the Ann Arbor Public Schools is dedicated to maintaining its level of education as well as students' mental and social well-being. Preparation events will begin the week of Aug. 31 while classes begin on Sept. 8. More details and information regarding enrollment and the 2020-2021 school year to come.