Local restaurants struggle with COVID-19 closures
With over 300 restaurants serving high-quality food, Ann Arbor's dining scene is popular for its diverse food from all corners of the world. However, local restaurants have been scrambling to find ways to stay in business after Gov. Gretchen Whitmer ordered all bars and restaurants to cease dine-in services on March 16, 2020 to slow the spread of COVID-19. 
"Many industries have been negatively impacted, but the restaurant sector suffered the most," Ahmad Hodroj, owner of Mediterranean restaurant, Palm Palace said. "Michigan restaurants lost $491 million in sales and over 72,000 jobs from March 1 to March 22, 2020." 
The amount restaurants have lost only increased during April, and now totals more than $1.5 billion. 
These numbers reflect Ji Hye Kim's concern for the future of her restaurant and other small businesses. Kim owns the Korean restaurant, Miss Kim. Although Miss Kim managed to stay open and organize a delivery and pickup service, Kim has been forced to furlough the majority of her "front of house" employees, which includes bartenders and hosts. Between above industry average benefits and wages and local ingredients, Kim's costs remain high. 
Kim was able to qualify for Paycheck Protection Program (PPP) loans. PPP has authorized up to $349 billion in loans to small businesses to help pay their employees during the COVID-19 crisis. Kim said that the "PPP loan system is quite broken" and "not designed for small businesses like us." She explained how loans aren't forgiven if restaurants don't hire people back, but the only way she would be able to hire back people is if her restaurant reopened, which she is not allowed to do. 
"On top of this, a lot of large corporate companies applied for PPP loans and got millions of dollars that were supposed to go to small businesses," Kim said. 
Small local businesses were already facing a challenge before COVID-19, and it will be hard for these businesses to make it through the crisis. 
Some restaurants closed temporarily after Whitmer's order but faced an increased risk of never opening back up, such as local restaurant, Wilma's. Wilma's closed temporarily after Whitmer's order, but recently announced that they will be closing permanently.
Hodroj predicts that "over 30 percent of the restaurants that closed due to the pandemic will be closing permanently." 
Hodroj organized a delivery and pickup service for Palm Palace, but the sudden implementation of a new system came with challenges, such as a lack of staff to deliver food, no designated area for curbside pickup and having to set up software that links customers to their order. The sudden increase in the number of restaurants doing takeout also caused a shortage of takeout containers, as witnessed by Kim. 
"COVID-19 has hurt our business mostly because a large percentage of college students are no longer in town which was a big chunk of our customers," said Toarmina's Pizza and Burrito Joint owner, Frank Toarmina. His restaurant also catered to a lot of University of Michigan meetings, which are no longer happening. 
Despite the hit that his restaurant has taken, Toarmina started "Medical Mondays", where any hospital employee can get a free meal of their choice. "I have two cousins that work at U of M hospital and another that works at a hospital in Detroit," Toarmina said. "They had been sharing horror stories and I wanted to help in some way." 
He did a personal fundraiser on Facebook that he "didn't really expect to take off like it did", but by the next morning, Toarmina had raised almost $1,000. In total, Toarmina raised $5,000, half of which was his own donation.
Palm Palace and Miss Kim have also helped out the community by giving out free meals for kids to families who have been financially impacted by COVID-19. 
"We quickly jumped in to close that gap, so families won't feel the burden," Hodroj said. He estimates that Palm Palace has helped more than 2,000 families with an average daily cost of about $2,000. 
The restaurant industry makes up four percent of the nation's GDP and 11 million people are employed by independent restaurants. This does not include the hundreds of millions of workers involved with food supply and delivery who also depend on these restaurants. An article from the National Restaurant Association estimated a permanent loss of 15 percent of restaurants. 
The best way to support restaurants in addition to buying food and donations is by purchasing gift cards. 
"Gift cards are a form of 'payment in advance' for services and products that are not to be received immediately," Hodroj explained. "They increase the cash flow of a restaurant and help it get through financial hardships."
Hodroj said that "the pandemic has been a driving force proving that after all, we are one very big family living under different roofs."
About the Writer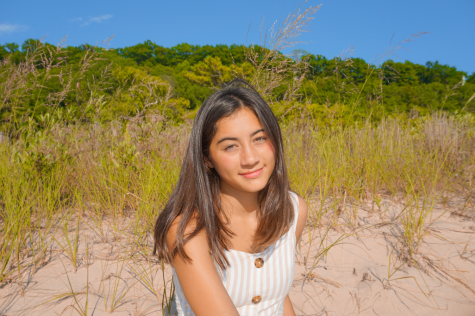 Verena Wu, Staff Writer
Verena is a senior at Huron. This is her first year writing for the Emery and she's excited to learn about the community by writing articles. She is...