Junior Jumpstart Monday: Angie Zhou
Q: What are your thoughts on how the school year is currently going?
A: "School has been pretty decent so far. Junior year is stressful, and the workload can be intense at times, but I've been doing my best. Right now, I'm trying to get some of my grades up, but with the closure of the AAPS district, I'm not exactly sure of how that'll go."
Q: Do you have any goals for the rest of the year?
A: My main goal is to keep my grades up without sacrificing my mental health for it. I want to put in the effort to get the best grades I can, but I also just want to have the chance to enjoy high school.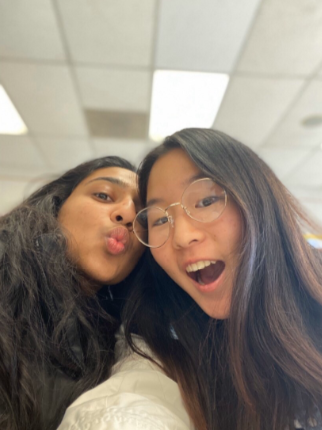 Q: What has been your best/worst experience so far?
A: "There's been a lot of good experiences this year. In general, I've really liked the opportunity to hang out with my friends, like going on food runs or just talking. My worst experiences are probably when all of my teachers assign tests and projects in the same week. Or procrastinating on AP Chem lab until the night it's due and then working on it for six straight hours."
Q: Favorite class/teacher and why?
A: "My favorite class this year is AP Calc BC with Mr. Collins. The course can be challenging, but I like being able to apply the math I've learned throughout the years. Mr. Collins also teaches the material really well and makes class more interesting by occasionally roasting the students."
Q: Do you enjoy your classes and why?
A: "I enjoy most of my classes. Most of them are genuinely interesting and I like the chance to talk to my friends. There are some classes where the subject isn't something that I'm interested in, but I just suffer through them because graduation requirements."