Sophomore Saturday: Nishita Shah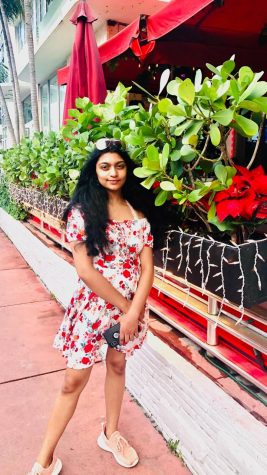 Q: What clubs/activities are you participating in?
A: "I am in APEX, ISA and BPA."
Q: What is your favorite club/activity?
A: "I like [APEX and ISA] because dancing has been a part of me since I was three. BPA is just a really great opportunity to get out there, make connections, and do what I like. I personally love speaking and being in a team and it really helps me develop those skills."
Q: Who is your favorite teacher at Huron and why?
A: "I don't have a favorite teacher but some of my favorite teachers are those who listen to what you have to say and are really interesting and know how to help you when you need help."
Q: What is your favorite class you are taking, and why?
A: "Right now my favorite class is accounting because the teacher is really great at making sure you know what you are doing and she's very preppy. It's Ms. Gordon, she's super fun to be around."
Q: What classes do you look forward to taking next year?
A: "I think I am just looking forward to a whole new year."
Q: What is one of your goals for the end of the school year? 
A: "I want to make sure that I'm well rounded and that I am able to advance in everything  I do and that I know that I am interested in what I'm doing. And that I have a passion for it."
Q: How has your experience changed from freshman to sophomore year? 
A: "In sophomore year the workload increased by a lot. It's a lot less working with other people and more of doing things on your own. But it's still super fun and as long as you are able to find the balance between work and your social life, it's all good."