Freshman Friday: Varshini Kashyap
Q: What is your favorite club/activity?
A: "My favorite activity is my piano class. I think it is a great relaxer for me when I get overwhelmed with school and life in general. I also really enjoy music theory."
Q: One word to describe your first semester of high school?
A: "I would say unbalanced. It was really hard for me to find a good balance between school and leisure."
Q: What is your favorite class you are taking, and why?
A: "Probably English,  because of my teacher, Mrs. Horowitz. I honestly have a similar opinion on most of my classes, so I don't have a distinctive favorite."
Q: What classes do you look forward to taking next year? 
A: "I look forward to taking some more interesting classes next year, such as AP Chem, AP United States government, and Politics."
Q: What is the biggest difference between middle school and high school for you? 
A: "I would say there is more homework in high school than in middle school. Grades are also significantly more important in high school, which can be stressful."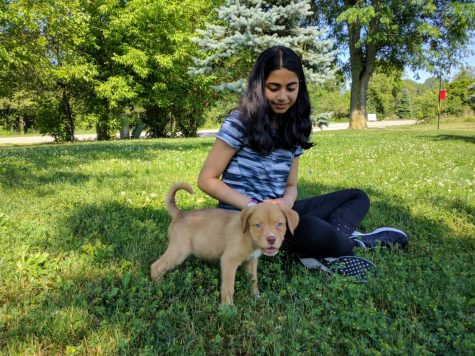 Q: What clubs and activities are you participating in? 
A: "At school, I participate in HOSA, BPA, and GIDAS. I also attend piano and dance classes. I coach Science Olympiad at Clague Middle School over the weekends."
Q: Where do you see yourself at the end of senior year? 
A: "I see myself preparing to go to college(hopefully a decent one). I hope after high school ends, I will be able to live a happy and successful life."
Q: What is one goal you have by the end of this year? 
A: "To develop better-time management skills, before the end of this year, and they will also be crucial in the future."
Q: Do you have plans for next year's classes? 
A: "I have a pretty good idea of which classes I want to take next year, but there are a few things I'm still not sure of yet. My four-year plan meeting with my counselor helped me clear up some doubts."
Special thank you to freshman Varshini Kashyap.