"Frozen 2": "The worst movie I've ever seen"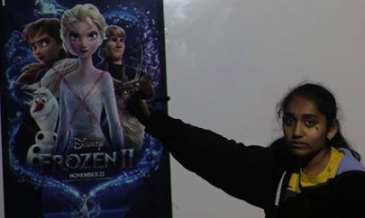 When Disney announces a sequel to one of its most beloved movies it sets up huge expectations from its fans. I was one of those fans, until I watched "Frozen 2."  "Frozen," was an amazing movie: the songs were great, the plot was entertaining and everything felt just right. So naturally, "Frozen 2" was one of the most awaited movies of 2019. The beloved characters Elsa, Anna, Kristoff, Olaf and Sven have returned after six years! I was very excited.  But it ended up being a huge letdown. Sadly, "Frozen 2" did not live up to expectations. It disappointed not only me, but plenty of other fans. 
  "Frozen 2" takes you on an emotional rollercoaster, including Olaf's amazing singing skills, the plot was nothing compared to the original. Small incidents were made into huge deals, which was unnecessary. This really annoyed me, especially since "Frozen" was such an iconic film.  Did they do this because they couldn't come up with anything else? As if the plot itself wasn't disappointing, the music was no better. 
"Let it go" by Idina Menzel, "Do you want to build a snowman," "Summer" and other songs from the soundtrack of the first movie, were huge hits. In "Frozen 2," the soundtrack hasn't struck a chord with many. Personally, I thought "Into the Unknown" was the only good song.  Overall, the soundtrack didn't fit the movie as it didn't match the plot at all. They were all pretty much random, and I think they were trying something different, more mature, but they ended up failing. 
The graphics portrayed and covered up most of the terrible plot. Especially when Elsa is using her powers and the surroundings, such as the palace. The palace, where can I start. It is enormous, and just beautiful. I would want to live there. But, some of the graphics were too basic, I didn't really notice much of a difference between this movie, and the first movie. Let me remind you, the movie came out six years ago, and technology has advanced. But, you can see they put a lot of effort, and imagine if they put this much effort into the plot. The movie would have been so much better. 
 There were hints that Elsa might be a lesbian from a parody a few years ago, and Disney might've actually made Elsa a lesbian, but I don't think they did it overtly because it would create a lot of controversy. There was also another parody, and possibly a rumor, Anna might have had fire powers in Frozen 2. 
Personally, I felt there was no need for a second movie to be made. The first movie stood strongly by itself, and the second movie ruined the magic set out by the first movie. The first movie was hilarious, and I was looking forward to more comedy in the second one, specifically from Olaf, since he is my favorite character. 
Don't watch "Frozen 2." It is the worst movie I have ever seen, and it is not worth watching it in the theater. Save your money. Let it go.