Joe Wade: Directing the Baseball Team to Victory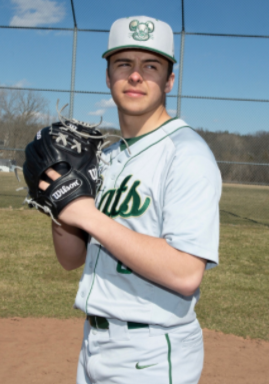 Huron baseball has been to the district championship five years in a row and lost every year. However, they hope to change the pattern this year with a largely senior-led team, including the outgoing flamethrower captain, Joe Wade. 
Baseball has played a large role in Wade's high school career, and he hopes to continue playing in college as well as pursuing a graduate's degree.
"In five years I see myself living a solid life … in college as a grad student," Wade said. 
Baseball is not Wade's only interest, though. He also enjoys making short films and videos, oftentimes to post on his YouTube channel. He uses both baseball and filming as a distraction from any problems he's dealing with at home or in school.
"My favorite hobbies are playing baseball and making short films," Wade said. "I like doing this because it's a good way to express my emotions and not think about stuff such as school problems and such."
Wade, who is a starting pitcher for the River Rats, prides himself on his ability to throw the ball at a high velocity, with his fastball topping out at 83 miles per hour. His powerful arm has helped him put on many impressive performances, including two starts in the district tournament last year where the River Rats were able to beat Belleville and Pioneer behind Wade's pitching.
Wade is always looking for ways to get better at baseball and you will frequently find him looking for inspiration or advice from some of the best pitchers in baseball on social media.
"My biggest role model is Justin Verlander because he's a great baseball player," Wade said.
When Wade isn't on the baseball field or filming a video, he is probably working on schoolwork or hanging out with his friends. Wade keeps a very positive outlook on life and tries to enjoy each and every day.
"My motto in life is: 'Make every day enjoyable,'" Wade said.
Wade and the Huron baseball team just finished their fall ball season and will be starting to do winter workouts to prepare for the 2020 baseball season. Joe is will be looking forward to his senior season in hopes of moving on to the next level.