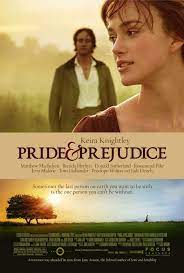 A gorgeous soundtrack, stunning aesthetics, and fantastic actors make Pride and Prejudice (2005), directed by Joe Wright, a must-see. I was first introduced to this movie by a friend in third grade, and even at that age, I was instantly captivated. 
The movie follows Elizabeth Bennet (played by Keira Knighty), who is full of fierce wit and sharp humor, as she meets Mr. Darcy (played by Matthew Macfadyn), a man of wealth and pride. It's the classic enemies-to-lovers storyline: at first, the two despise each other, but slowly, Mr. Darcy begins to fall for Elizabeth. Of course, though, Elizabeth is not of the same class as he is, and suddenly, it's crystal clear why Jane Austen decided to give this beloved classic its famed title. The chemistry between Knighly and Macfadyn is obvious, which makes the iconic ending scene and resolution that much more satisfying. 
However, while the love-story is amazing, I love even more how Elizabeth's character is portrayed. She's a strong, intelligent, independent woman, but not so much that she's stiff or unlikable. Her affection for her four sisters is heart-warming and relatable, and much of the conflict in the story comes from her desire for their happiness, above even her own. 
The plot isn't complicated, and not difficult to understand whatsoever – even if you're intimidated by the old-fashioned English of the original novel, everybody should see this movie at least once.