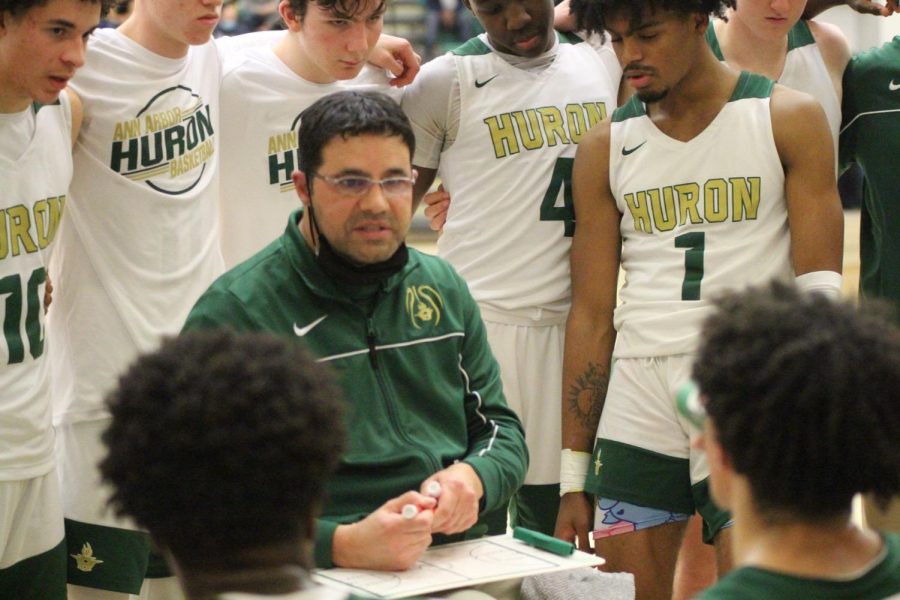 Jewel Storrs
As Huron Basketball once again enjoys a fantastic season, much of the praise of this team can go to head coach Waleed Samaha. Even if the team is younger than his past teams, Coach Samaha still has led this team to an 11-2 campaign in prime playoff position.
"We have great kids as always," Samaha said. "But we are less experienced across the board.  Even our upperclassmen are not very experienced.  Graduating 9 seniors was a huge transition for us.  But our boys play hard and they stick together no matter what the situation is.  This is a great team. Hopefully, we keep seeing improvement and we make another special run", Samaha said.
One of the brightest spots on this team this season is junior Adam Samaha, who is also his son. 
"I've been coaching twice as long as Adam has been alive, so he was born into this lifestyle," Samaha said. "It's in his DNA." said Coach Samaha.  "Coaching him has been pure joy.  I love that he gets to be a part of a great team, make great friends and memories and I get to see it first hand. I'm proud of the young man that he is becoming and being a student athlete at Huron has helped to shape that".
This team has also been starting to really form an identity as a high-energetic, defensive-minded team where all players play team ball.
"Each team takes on it's own personality and identity," Samaha said. "We have seen this group really come together.  We have to remember that this current team has not had many off season skill development opportunities because of the pandemic. They have not been able to have the "normal" progression in their development.  We are building our team as we go, so to see what they are doing is remarkable. It speaks to their character." 
The remaining players from last season's team have stepped up this season to lead the Rats to a 10-0 record in conference games this season.
"Our Captains, Adam, Braylon, Jay and Trey were the younger members of our championship team last year," Samaha said. "They embraced their new roles with enthusiasm.  They knew they were going to be challenged with a great responsibility and they have delivered. Their leadership has been outstanding."