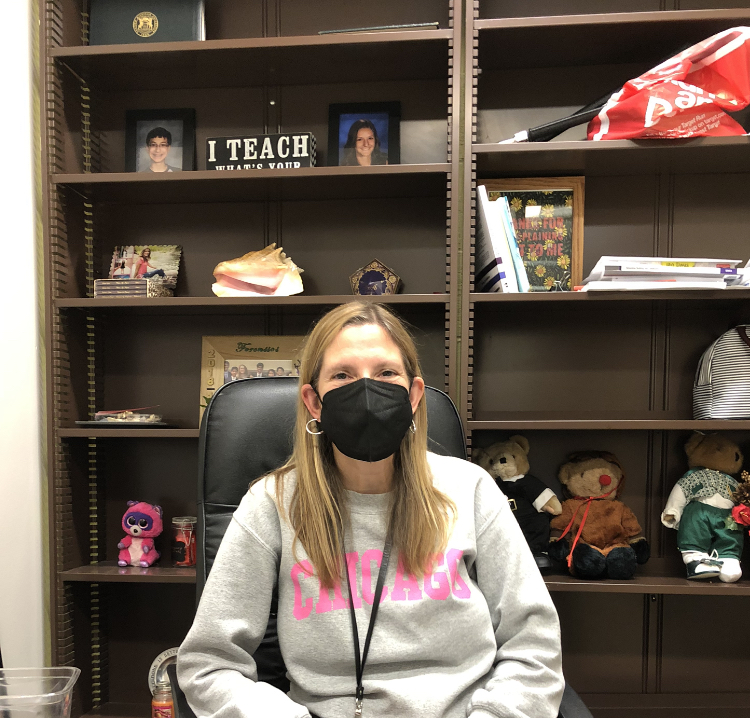 Courtesy of King-Freyre
Q: Tell us a little bit about yourself and what hobbies/sports you do.
A: "When I was your age I played sports year-round. I ran cross-country, track, I played basketball — most people are shocked by that. I actually started as a cheerleader and I played softball."
Q: What do you teach and why?
A: "I teach English 10, English +, and personal project. Don't tell anyone but sophomores are my favorite. They make me laugh all of the time. They haven't gotten stressed about college the way juniors and seniors have. They've figured out high school, like the freshmen are still trying to figure things out. Sophomores are confident and smart, and they make me laugh."
Q: Have you always been interested in teaching?
A: "No. Funny story, my high school English teacher first planted the seed, and he said, 'I will let you miss my class, and you can go down the hall to the freshmen class and sit with Ms. Whitley and see if you like teaching.' And so I did. She eventually turned her class over to me and I got to teach high schoolers for a little while while I was still in high school."
Q: What/who inspired you to become a teacher?
A: "Probably my dad. My dad is a prolific reader, and a great public speaker. He used to take me to the library when I was really little, before I went to school, and I can just remember falling in love with books and language."
Q: What do you do in your free time?
A: "It's not very exciting. So I live in an old house; it's 120 years old, and we've been working on fixing it up since we moved in. I have two adult children. My daughter is just starting as a second grade teacher, so over the summer I was helping her get her classroom ready and find books that are at the second grade level. My son is going to Washtenaw, and he is very interest in cars and planes, so I kind of get roped into their activities. And I love animals."
Q: What is one motto you will always live by?
A: "Carpe Diem, [a Latin phrase for 'seize the day.']"
Q: What is your favorite teaching moment?
A: "Hmmm… Since we're talking carpe diem, I don't know if you've ever seen the movie Dead Poet's Society. At the end, all the students salute their teacher while he's leaving, and they stand on the desks. I had a class of students do that once, and then as if that wasn't good enough, they each had a slip of paper in their pocket, and they had written down the title of something that they had read in my class and how that book had inspired them."