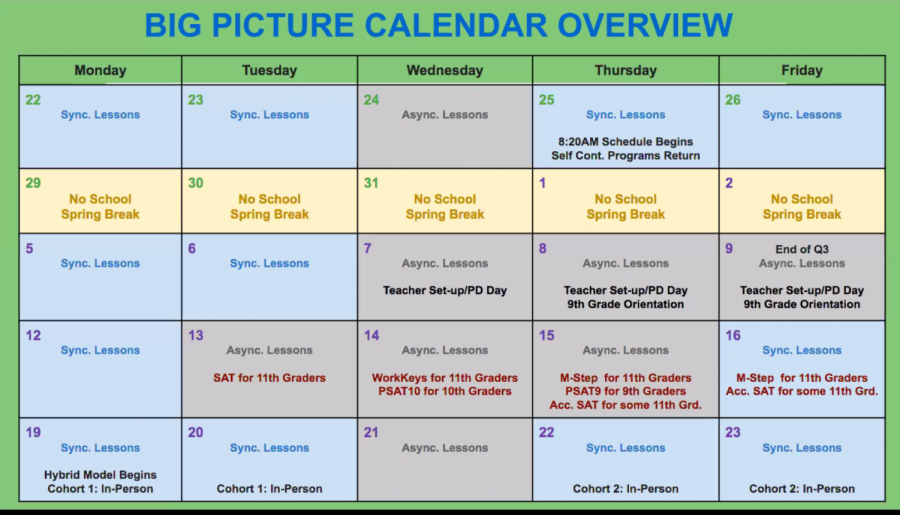 Courtesy of Ann Arbor Public Schools (AAPS)
On March 15, at  7 p.m., Huron High School's administrators, Michael Sumerton, Salvador Barrientes and principal Janet Schwamb held a community session regarding the hybrid in-person learning option. 
The Ann Arbor Public Schools Board of education also provided more information on how schools will look and HVAC on March 17.
High school students will be transitioning into hybrid learning on April 19. Students who opt into hybrid learning will be put into two cohorts: Cohort 1 which will attend in-person school Mondays and Tuesdays and Cohort 2 will attend in-person on Thursdays and Fridays. Parents can contact the administration team if they want both of their children to be in the same cohort (if they have a different last name) or different cohorts (if they have the same last name). Those who do not want to go into the building will remain on Zoom with their same teachers but while following the new schedule. Students who are in-person will attend 60 minute blocks — have a break to travel home and eat lunch — and transition to online learning for the afternoon attending each of their blocks again synchronously while virtual. 
By splitting students into cohorts, the risk of transmission will decrease. 
Special education students will go back to school on March 25 and will be attending school everyday. In addition, starting March 25, school will begin at 8:20 a.m., 10 minutes earlier than the current schedule.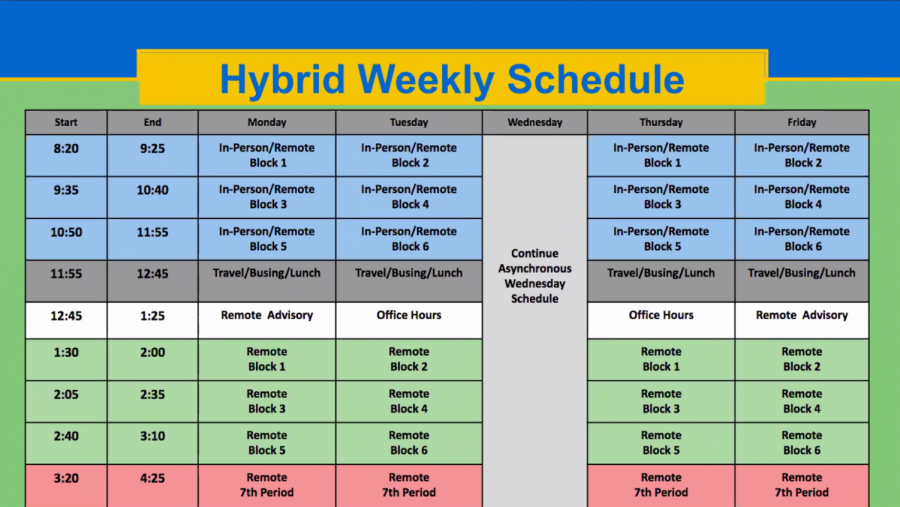 Survey and Hybrid learning back to school info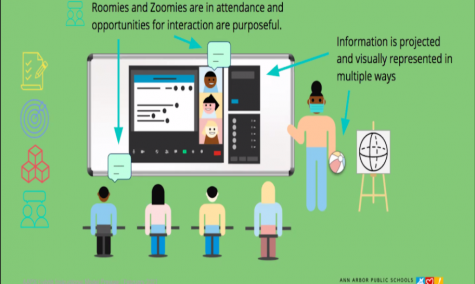 AAPS families received a survey if they opt for hybrid learning or wish to continue and remain fully virtually. The survey window is open from today to March 22. If families are not sure whether or not they want to go back — but there is a possibility — they can go ahead and mark "yes." So, as days progress, families may re-evaluate their decision.
Moreover, if a student is dual-enrolled, they will have to choose which school they want to attend in-person to. 
For hybrid instruction, students are required to bring a laptop to school, and teachers will instruct students attending in-person schoo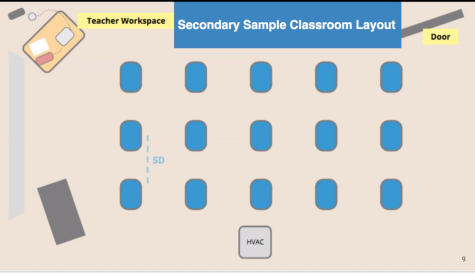 l and those who opt for remote learning in instructional blocks. 
Schoology will be used the same way. The Zoom call will be projected on the whiteboard, so Roomies (in-per
son students) and Zoomies (virtual students) can interact. Zoomies are not obligated to project their video. 
Those who have an A2 Virtual class or free hour during a block will have a designated place or area to work. Students can also leave early,  with parental and/or guardian permission and as long as they do not need transportation.  
Health and safety information
Every student and teacher has to wear masks at all times, while rare exceptions can be made for a valid medical reason. Students should bring a personal water bottle and follow all safety protocols and can only remove their mask when eating or drinking water.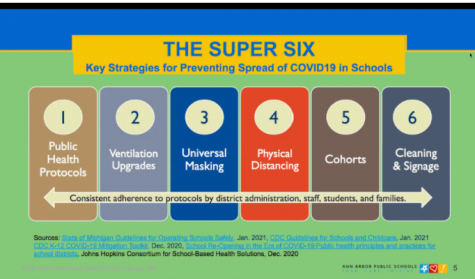 If students are not feeling well, they should stay home and can be a Zoomie for the day. 
In addition, parents must screen their children every single day and district screening questions will be provided. 
By prioritizing the health and safety of AAPS students and staff, schools will follow the Super Six mitigation strategies. 
Staff and students are encouraged to use hand sanitizer as they enter and exit classrooms. Hand sanitizer stations will be placed in every classroom. Student desks will be spaced six-feet apart and seating charts will also be established. No other visitors are allowed on campus, unless they are there by appointment. There will also be a daily cleanse of the whole school and disinfection of high touch surfaces twice a day. 
Since April of 2020, the AAPS board of education has worked to improve indoor air quality in public school buildings in facilities. All HVAC filters have been replaced. In fact, approximately 1,000 HVAC filters have been recommissioned. Teachers will also try to leave windows open, if the weather permits it, to circulate as much air as possible. 
What if?
If there is a COVID-19 case, the district will follow five steps: 
Staff member or student will notify the principal
District contacts staff and families 
Principal communicates this situation to the cohorts
Information about who contracted COVID-19 will remain confidential at all times, and staff and students will quarantine
More communication for those who have been in close contact with those who have contracted COVID-19, and everyone will return to school after quarantine is complete
Transportation 
Families who live 1.5 miles from Huron were sent a transportation survey March 15, if they wanted or needed a bus. There will be hand sanitizers on each bus, seating charts will be established and students will wear a mask, while rare exceptions can be made for a valid reason. Windows will also be open to circulate air throughout the bus; students should be prepared to wear warm clothing. 
Families should not drop-off their kids earlier than 8:10 a.m., unless they are eating breakfast, which will be available at 8 a.m. All students are eligible for free food service: breakfast and lunch, however, they do have to sign up. 
School will end at 11:55 a.m., and families must pick up their students by 12:05 p.m. and advisories are only on Mondays and Fridays. 
Upcoming events and standardized testing information
Mandated standardized testing will take place the week of April 12. Juniors will be taking the SAT, ACT and M-STEP, while freshman and sophomores will be taking the PSAT. 
Furthermore, coaches are speaking to their athletes and practice times will be adjusted for those doing spring sports, and the freshmen orientation will be in-person (with all of the mitigation strategies) and it will occur on April 7 and April 8.
This article will be updated as information becomes available. Last updated on March 17 at 11:17 p.m.