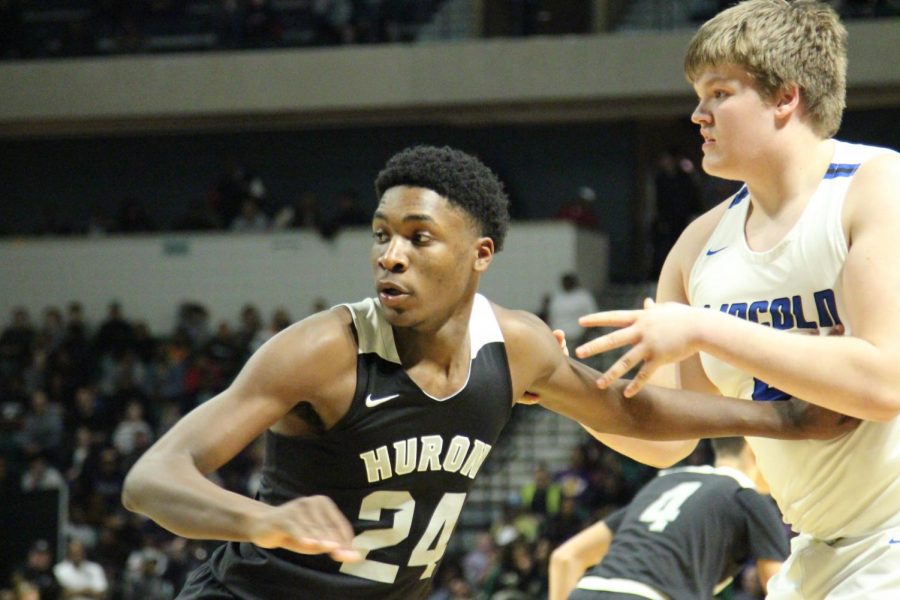 On March 12 at 2:25 p.m. the Rats postseason tournament was cut short when the MHSAA made the decision to suspend all winter tournaments due to the recent health concerns of COVID-19. Huron's Men's Basketball was scheduled to play in district finals on Friday, March 13 against Lincoln High School.
BREAKING: Full press release, statement on suspension of all MHSAA winter tournament events. https://t.co/5jSl8xqpR4 pic.twitter.com/grgUpj54rJ
— MHSAA (@MHSAA) March 12, 2020
The team had recently won games on Monday and Wednesday, against Saline and Belville, respectively, and was planning on continuing their postseason Friday. The team only lost one game this season, giving them a record of 18-1, and had a dominant season overall. Huron beat Lincoln by 10 points on Tuesday, and was hoping to repeat that victory on Friday night. 
"Like everyone else, we're disappointed that we didn't get to finish," head varsity coach Waleed Samaha said. "But it doesn't take away from what we already accomplished. We won our conference, we beat some really good teams all year and the kids really came together. They fought through a ton of adversity, illnesses and injuries. They showed their true characters, who they are as young people, and that the same kind of resilience and character that we're going to need to get through this situation that we're all faced with."
Samaha was also confident in his team's ability to make it to Breslin and win the state tournament. 
"We believed we were the best team in the state, we still believe we're the best team in the state, we just won't get a chance to prove it," Samaha said. 
The players were informed after school on Thursday in a team meeting. 
"I was just shocked and disappointed that the tournament that all student athletes and coaches work so hard to play and perform in, and enjoy the most about the season was taken away," junior Devin Womack said. "I think our team had a real shot to win the state championship as we all continued to get better and fight through all the adversity that had come over the past season."
Many of the players were not ready to talk about the cancelation of the tournament.
"I think there's still a lot of shock, disbelief, I don't think it's really settled on a lot of us yet," Samaha said. "But as the days become weeks, it will start to really hit, and that's when I think people will start to feel frustrated, angry, resentful, disappointed, I think all those things will start to settle in. But again, we just have to keep going back to the same message that we've been giving all year, that you deal with adversity and you rise above it, and you show your true character when adversity hits."